View All Blog Posts
Venture Capital
Lessons from Lebanon to Life Sciences with Dr. Moise Khayrallah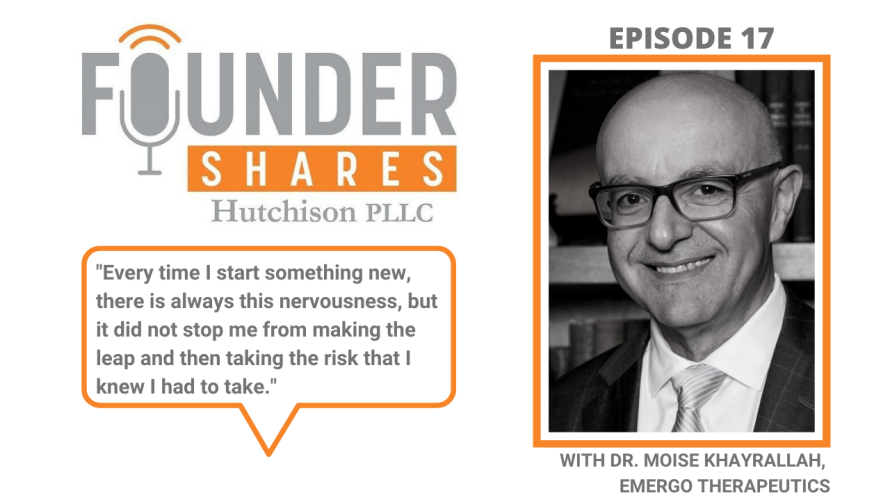 Risk taking is a part of every founder's entrepreneurial journey.
But for Moise Khayrallah, it has always been a part of his life. An immigrant from Lebanon, he remembers being a teenager and hearing bombs exploding overhead during the Lebanese Civil War. He remembers going to school and learning to survive. He remembers becoming resilient.
So, before the now CEO of Emergo Therapeutics takes a risk that might stress out some entrepreneurs, he finds himself asking "What's the worst that could happen?"
He moved to America at 24 years old, earning his PhD in psychology at UNC-Chapel Hill. His first risk was not practicing as a psychologist, knowing that he wanted to work in research.
"I never envisioned that I would be in healthcare and pharmaceutical research," Khayrallah said. "So a friend of mine who was working at a company here in RTP gave me the opportunity to learn pharmaceutical research, and I was able to use all the tools of research that I'd done in psychology and apply them to research in the pharmaceutical and the biotech world."
He said he found that his psychology training was an advantage in supplementing his team, which led to a long and storied career in pharmaceuticals and his current position at Emergo.
Emergo is working to reposition a drug known for treating asthma into the influenza and influenza-like illnesses. He says that the problem with some of these viral infections is not the virus itself, but the inflammation the virus induces in the body and the body's response to the inflammation that causes the symptoms.
He used the COVID-19 pandemic as an example.
"So people don't die from the virus," Khayrallah said, "they die from complications in the lungs that follow the immune system's response to the virus."
But his co-founder had the idea back in 2017, and because mask-wearing and social distancing due to COVID-19 have reduced the number of influenza cases, their research has been delayed nearly a year and a half—another challenge Khayrallah isn't afraid of.
"We had to lengthen the duration of the program and raise some additional funds from our investors," Khayrallah said, "and we are not done yet. We are now hopeful that as soon as the next season starts in October, and if it's positive, we will have potentially a good exit for our investors, but again, it's risky."
He said that, though their timeline has been derailed and they don't have the study results, they have investors on their side and the expertise that allow them to anticipate what needs to be done to engage more potential partners.
It's just another risk waiting to pay off.
To hear more about Khayrallah's career, including the Moise A. Khayrallah Center for Lebanese Diaspora Studies at N.C. State University, check out his episode of Founder Shares available wherever you listen to podcasts.