View All Blog Posts
Rent Ready's Jonathan Kite Talks Launch to $10M Series A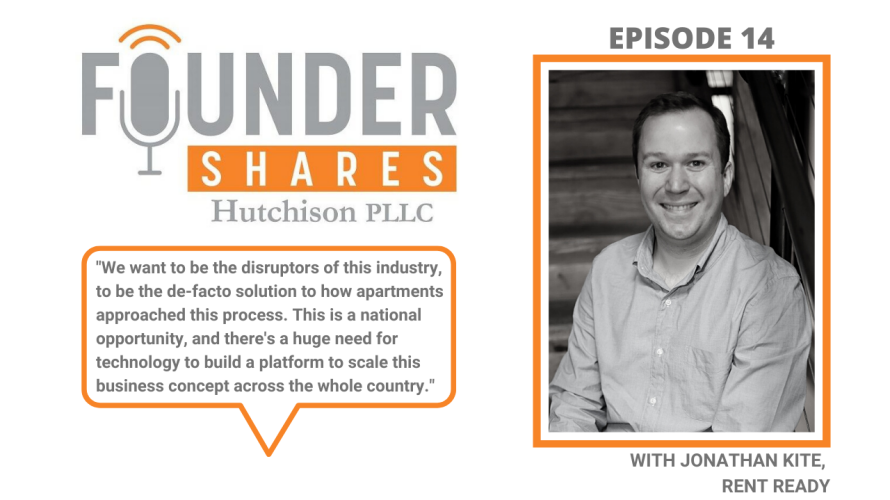 No one likes moving. And when residents move out of apartment communities, there's a series of services that the communities must deliver before another tenant can move in. During that time, the community is missing out on rent money.
Rent Ready is on a mission to make apartment communities' renting processes as easy as possible. In the latest episode of the Founder Shares podcast, co-founder and CEO Jonathan Kite talked about why he decided to solve this big problem.
"It's an enormous market opportunity for us to tackle," Jonathan said. "This is a problem that really exists at every apartment community, regardless of size. We have essentially estimated that there's probably over $10 billion worth of spending across the country just on the turnover process itself."
When his co-founder Ryan McMillan came to him with the idea, Jonathan was in Seattle working at Microsoft. Having grown up in Charlotte and studied at UNC-Chapel Hill together, the two had always dreamed of starting a company, and Jonathan knew it was the time.
He said that he learned the foundational skills he needed to make the move in corporate America: how to interact with customers in difficult situations, how different companies approached the application of technology and how to help companies create strategies to solve problems.
"In some cases, the experiences you have at big companies are great when you're already at scale, but not when you're starting a company," Jonathan said, "and you're never going to replicate the things that you see at a big company when you found a company. But the diversity of work experience that you get being exposed to how different companies approach things is key."
But that didn't mean founding Rent Ready has been easy.
"The chicken egg dilemma, right?" Jonathan said. "We need providers on the supply side of our marketplace, and we also need customers on the demand side of our marketplace."
He said they couldn't sell to a customer until they had a provider to deliver the service, but they couldn't sell to a provider unless they had demand to give them jobs. Plus, with three employees wearing every startup hat in the business, they often found themselves struggling to get everything done.
"It was not rare for us to find ourselves in a pinch where we had nobody to do the work," Jonathan said. "Those were moments where you just had to turn to each other and say, 'Let's rush home, get all the cleaning stuff out of our kitchen cabinets and go to the job site and actually do the work ourselves.'"
Although, experiencing what their future employees would experience was crucial to Rent Ready's founding. By completing the work themselves, they gained empathy and appreciation for the work their employees would do on a daily basis.
As the company has grown—$10 million in series A funding grown—many of those problems have disappeared, and they're growing, scaling and recruiting talent that's creating a successful business.
To hear Jonathan Kite and Rent Ready's full story, check out the Founder Share's podcast, available wherever you like to listen.