View All Blog Posts
Corporate
Thinking of Starting Your Technology Company in Atlanta? Here's Why We Are.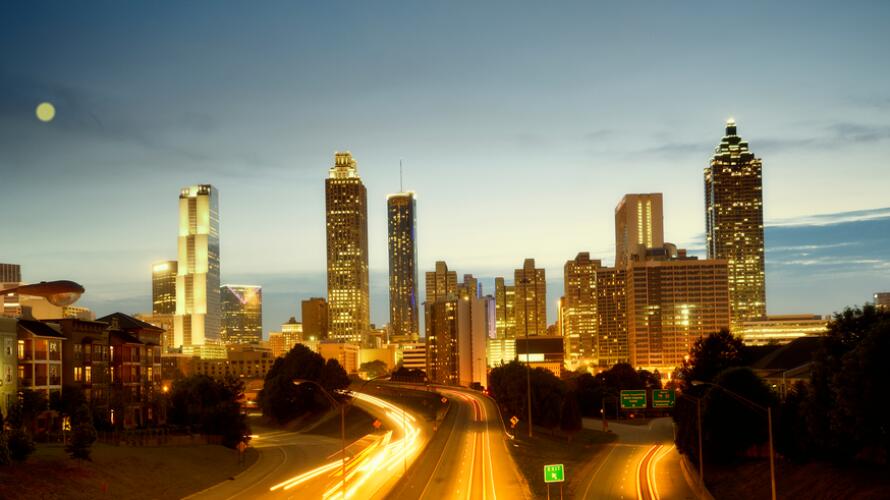 I recently sat down at our new office in Ponce City Market and talked with a few serial entrepreneur friends about why we're opening an Atlanta office and how we're going to succeed here. Since many of the reasons we chose Atlanta are the same as those that make it a terrific choice for startup and established technology companies, I thought it might be useful to share some of what we discussed.
Vibrant and Thriving Technology Culture and Infrastructure. The energy here at Ponce City is incredible, with established companies like Cardlytics, AthenaHealth, HowStuffWorks and MailChimp leading the way for dozens of startups by writing out plans and strategies on glass whiteboards. What David Cummings and his team have done in making Atlanta Tech Village one of the country's largest tech entrepreneurial hubs is inspiring. The Tech Square area continues to be a high-energy confluence of innovation and capital. The Advanced Technology Development Center (ATDC) is a tremendous hub for new technologies and will surely continue to excel under Jen Bonnett's committed and experienced leadership. Atlanta has always been an ambitious city of big dreams, but the development of these dense technology clusters is moving the city in to the first order of technology markets. TechStars' program on the 9th floor at PCM is further validation of that success.
World-Class Research Universities. One key feature of many of the world's best technology centers is the presence of world-class research universities developing new ideas and technologies. We understand that role and have had the pleasure to help entrepreneurs spin technologies out of many of the Southeast's leading research institutions. We have worked with companies commercializing technologies developed at UNC Chapel Hill, North Carolina State University, Duke University, University of Virginia, Virginia Tech and the University of Florida. We work with a number of technology and life sciences companies from Georgia Tech and Emory and continue to see and anticipate very exciting developments coming out of these universities. In addition to these universities, Georgia is fortunate to have other excellent universities such as the University of Georgia, SCAD and Georgia State, collectively a tremendous competitive advantage for the state.
These institutions also provide Atlanta, Georgia and the Southeast generally with a highly-educated workforce with the skills to build upon the success of our region's more established enterprises and to build the next game-changing companies.
Enterprise Strength. Atlanta is consistently a national leader in the presence of Fortune 500 companies. These larger companies present immediate customer markets and the perfect opportunity for collaborative relationships with startups, yielding many highly successful enterprise software companies, particularly in key verticals such as digital heath, cybersecurity and financial technology. Cox Enterprises' partnership with TechStars, and innovation center efforts by Home Depot, AT&T, Southern Company and others, are clear indications of the interest these global enterprises have in the innovations emerging companies can drive.
Capital. Let's face it, every technology hub outside of Silicon Valley, and to a lesser extent Boston and New York City, confronts the same issue: not enough local investment capital. But Atlanta and its many startups are fortunate to have a significant presence of very smart capital. There are a number of active venture funds based in the city, several started by successful Atlanta entrepreneurs putting money back into the community. The Atlanta Technology Angels has become one of the most active angel groups in the country. These local investors fuel the growth of Southeastern startups and, in many cases, help propel them to the national spotlight where they can attract capital from marquis Silicon Valley venture firms.
How to Succeed in Atlanta. My partner Fred Hutchison recently wrote the top five things he's learned from entrepreneurs over the last 20 years since starting the firm. Two of those key points were persistence and "a lot of sweat and effort." To me, that is the essence of how our firm works and how we will grow our practice here. We are entrepreneurial lawyers. We have built our firm working with and learning from entrepreneurs, from founders in a dorm room with just an idea, to established enterprises taking novel, life-saving therapeutics to market. Working with these entrepreneurs, in good times and bad, is what we do.
It's an exciting time to be in Atlanta. I first moved here in 1993 as a recent college graduate working for Andersen Consulting (now Accenture) to help develop new financial reporting software for Delta Air Lines. Several of my Andersen colleagues and I were regulars for lunch at Eats on Ponce. Sitting now in the Hutchison office at PCM, looking out at the Beltline and across Ponce at Eats and beyond to the Midtown and Buckhead skylines, it is amazing to see the progress the city has made.
All of us at Hutchison look forward to doing what we can to serve the Southeastern technology and venture communities. Please drop me an email, stop by the office if you're over at PCM and/or connect with me on LinkedIn or Twitter, and let us know how we can be more helpful to entrepreneurs. Look forward to talking with you.